Welcome to Kamann Poodles. I am located just north of Seattle Wa, in a town called Brier. We breed and show Miniature Poodles, and have done so for 30 years. To date, we have close to 50 champions, either bred by or carryng the Kamann kennel name.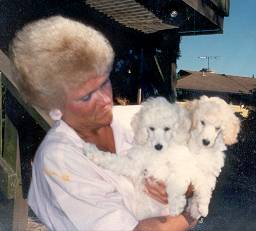 A healthy, mentally sound poodle is a joy to live with and this is what we strive for in our breeding program. Only a select few of our puppies go on to show homes, therefore we breed to ensure that all our puppies are beautiful, happy dogs that are a credit to their breed. We only breed in order to have another dog to show, which means that we do not always have puppies available.

Breeding dogs is both an art and a science - knowing what combinations will give us Poodles that are both correct for the show ring, easy to live with, as well as being genetically healthy and long lived. Because a show career is a small part of a dogs' life, we also want to make sure our dogs are easy to live with, as a beautful dog is nothing if they can't be a regular member of a family.

We are always studying our dogs, their pedigrees and the dogs of other bloodlines, researching to see where the next 'star' might come from. This is where the 'fun' of breeding dogs lies!

All of the dogs that are used for breeding here receive Optigen DNA eye testing, annual eye checks and OFA hip x-rays at two years of age. The boys have their DNA registered with the AKC. I also belong to the Washington State Obedience Club, Puget Sound Poodle Club and am in good standing with the AKC.

Click on the links below to navigate through the pages.

Website design by: